Translucent Recycled Crystal Glass ( TGS )
---
Fashionastone always adheres to the business philosophy of green environmental protection decoration materials.
Discarded wine bottles or industrial glass tailings are the main source of raw materials for our calcined Translucent Crystal Glass. As a major manufacturing country, we undoubtedly have an absolute advantage in raw material costs; after 15 years of continuous updating of research and development technology, our slabs have reached or It has surpassed the international advanced level, such as the lower air bubble rate in the blank body.

Our process is to use 100% recycled glass to crystallize in a high-temperature kiln without adding any coloring elements, and to ensure the inherent light transmission of the glass without adding resin and other potentially harmful components. This absolutely inorganic material has amazing weather resistance and anti-ultraviolet function. In addition to the living space, it is more suitable for external commercial design. It will not fade or age after permanent long-term use. It has no other light-transmitting materials. Comparable performance advantages, cost advantage over natural marble or jade, durable and high-end atmosphere than artificial resin board or acrylic surface.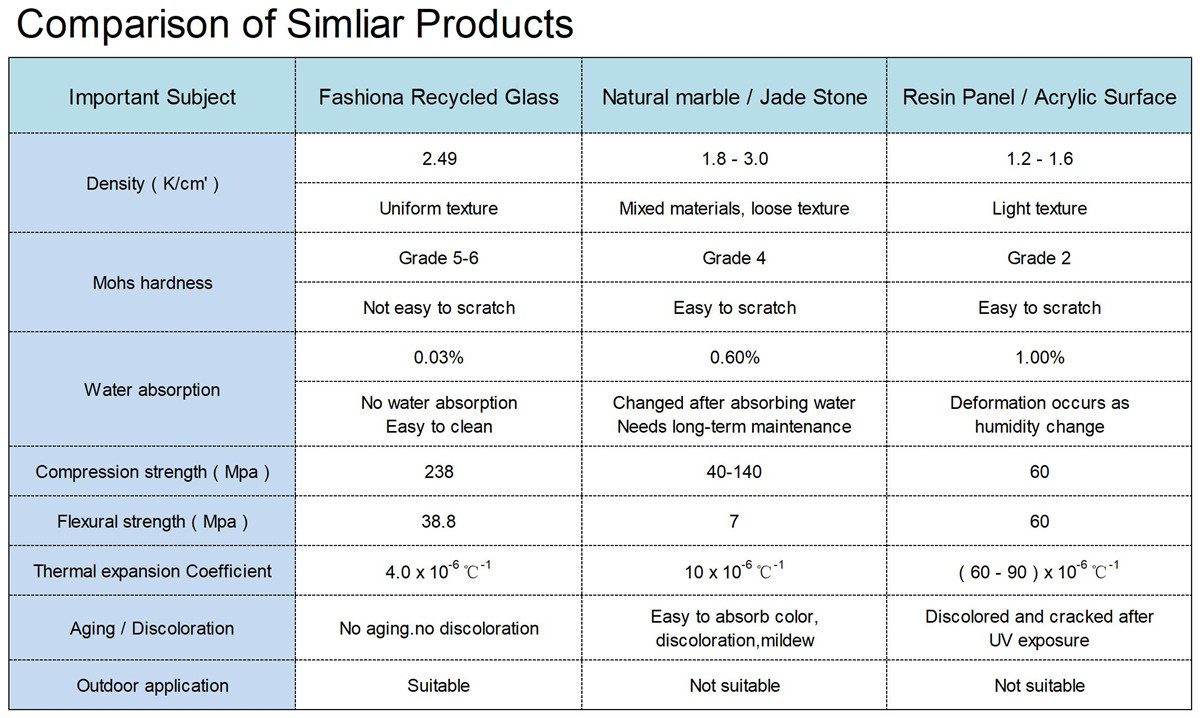 The slab size of Fashiona Recycled Crystal Glass is 55x55" and 55 x 118", the regular thickness is 20mm and 30mm, and the customized thickness is 15mm and 25mm. The surface finish is available in three ways: Polished, Matte and Soft Gloss. According to the needs of different use environments, safety explosion-proof film or synthetic laminated tempered glass can be pasted on the front and back of the glass blank to enhance the strength of the product. Even if it is damaged by strong force, it will not fall off and become a real safety glass.
Fashiona Recycled Crystal Glass has a wonderful light transmission effect, and when backlit with a cold light source, it presents a jade-like beauty.
main application:
Residential: kitchen and bathroom countertops, coffee tables, background walls, partition walls, floors, stair steps, etc.,
Commercial: hotels, clubs, office buildings, office buildings, airports, subway stations, etc.