About Nano Crystallized Glass ( NGS)
---
After Micro Crystallized Glass Stone, Fashionastone launched China's second-generation crystallized glass with higher hardness and more stable performance -- Nano Crystallized Glass in 2008.
As a building decorative surface material, nano crystallized glass is mainly produced in China, and it is also named Nano Crystal Glass. According to different quality grades, the highest grade of Fashiona Nano Glass is Nano 3 Glass. In order to distinguish the early Nano White Glass, we call the later developed Nano pattern printing blank as Nano Patterned Glass.
The slab size of the nanocrystalline glass sheet is usually 118" x 63", 110" x 63", regular thickness is 18mm, and custom thickness is 10mm, 12mm, 25mm, and 30mm.
Normal shaping of the slabs is ground followed by a polished finish, but CNC satin and sandblasted finishes are also available. In 2018, with the introduction of Italian inkjet printing technology, Nano Patterned Glass was successfully introduced to the market, changing the situation of Nano White Glass being single white for many years, and providing the market with more design and application options.
In addition, in terms of special-shaped processing, materials can also be hot-bent into customized designs such as arcs, curved surfaces or sunken integrated sinks.

While supplying the domestic market, we also export a large amount to overseas markets: North America, South America, the Middle East, Europe, Southeast Asia, etc. In the Indian market, their industry associations divide the Nano White Glass purchased from China into Nano 3, Nano 5, Different quality level than Nano7.
Fashiona Nano Crystalline Glass is made of natural material mixed with 75% silica and 25% other natural minerals. The mixture is poured into molds to form slabs, which are then heated to temperatures around 1,650 degrees Celsius for more than 24 hours. The high temperature and length of time cause the glass molecules to align at the nanoscale and remain unchanged after cooling and hardening.

Fashiona nano crystal glass is much harder than ordinary glass or even standard crystallized glass, it has a Mohs hardness of 6.0 to 7.0, a compressive strength rating of 400 MPa, a flexural strength rating of 82 MPa, and a breaking strength rating of 35 MPa. At the same time, the water absorption rate of nano glass ceramics is 0.004% to 0.02%, and it is completely radiation-free. The material also has a DIN 4102 flammability rating of A1.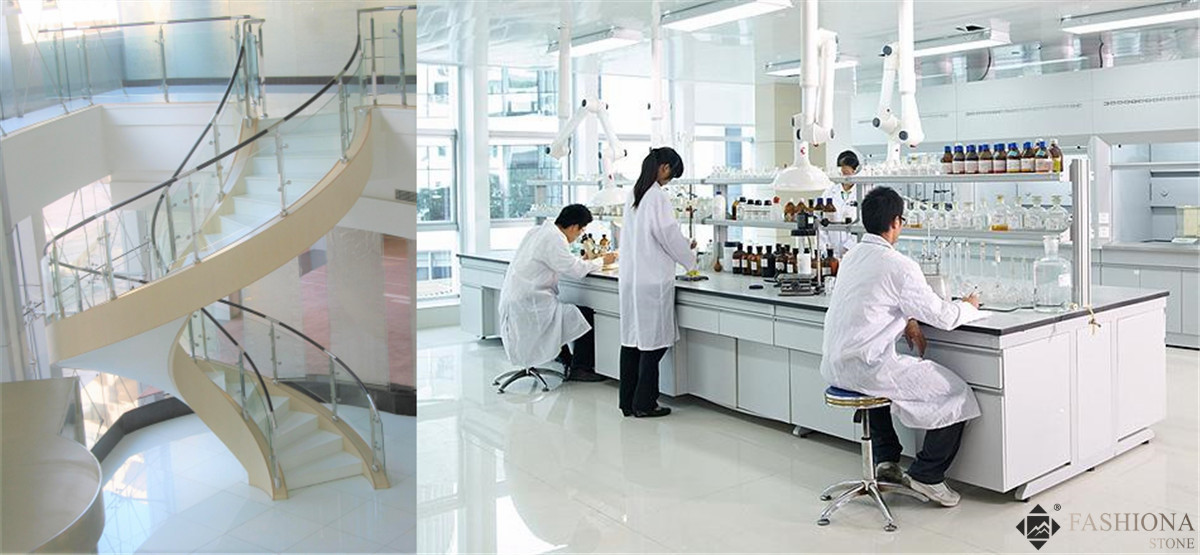 Nano Crystallized Glass is environmentally friendly, white and non-porous, non-absorbent. It has good weather resistance, acid resistance and alkali resistance, and is easy to clean and maintain. Nanoglass can be used on kitchen countertops, bathroom countertops, any countertop, floors, walls, stairs, curved cylinders, curved surfaces, basically anywhere indoors or out.