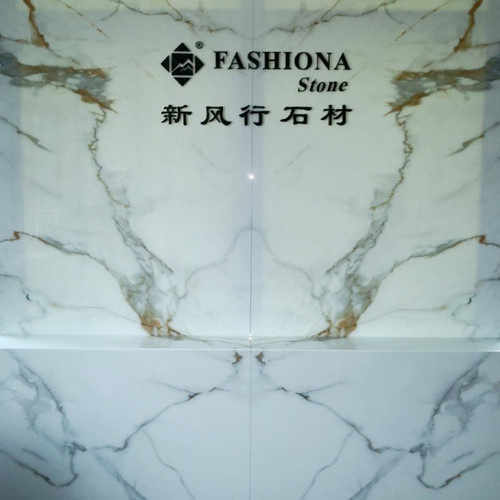 Fashionastone has always focused on high-temperature melting non-resin inorganic building decoration materials, suitable for residential and commercial indoor and outdoor applications. The principle of product design benefits from the formation process of natural stone. Italy's advanced production equipment, domestic rich mineral resources, and cost-effective labor resources are the comprehensive factors for the healthy development of our materials.
The crystallized glass slabs used as building decoration materials are basically manufactured in China, except for Japan's NEG and Germany's MAGNA. Fashiona Stone started research and development in 1998 and officially launched to the market in 2001.
The production design of Fashionastone comes from the formation principle of natural stone, with natural inorganic silicon, sodium, and calcium stone as the main raw materials, without any resin or other coloring agents. Combined with today's advanced technology and production equipment, it is crystallized at a high temperature for up to 30 hours. The current two main processes are sintering and calendering.
Fashionastone always adheres to the business philosophy of quality first, including products and services. In China, as a pioneer in the industry, we have absolute advantages in R&D technology. Continuous innovation is the long-term demand of the terminal market and the vitality of our development. Foshan New Fashion Building Materials Co., Ltd., established in 2011, focuses on the service of exporting overseas markets with professional product knowledge and accumulated 20+ years of industry experience.
During the three-year epidemic period, we added crystallized silicon elements to the Porcelain Slab in China through the sintering process, so that the surface pattern penetrated into the slab body and gave a sense of transparency. This is the perfect combination of ceramic technology and artificial crystallized stone technology, and its performance exceeds that of traditional porcelain plates, making it an exact sintered stone.
At present, our main service areas are North America, Europe, Japan, South Korea, and Singapore in East Asia, and the Middle East mainly in Saudi Arabia, the United Arab Emirates, and Qatar.
We sincerely thank our old and new friends who have supported and helped us over the years!
Professional Team
---
The company has an entrepreneurial team composed of high-quality talents. Our owner is a member of the first-generation of crystallized glass team in China and has accumulated rich product knowledge and industry experience. The team members are young, energetic, innovative, brave to meet challenges, and always put quality and service at the top of their work content.
We always adhere to the business philosophy of "quality, service, innovation" and are committed to serving the foreign high-end market. As early as 2002, the first generation of Micro Crystallized Glass Stone in China was sent to the US market by us. So far, the sales and service of the product have covered The United States and Canada; some European countries, Japan, Singapore, and South Korea, and the Middle East such as Saudi Arabia, the United Arab Emirates and Qatar.
Sustainable Development
---
As a building decoration material, crystallized glass stone has more stable and superior performance than other artificial stones, and has more convincing weather resistance and more competitive application cost than natural marble. The continuous growth and progress of industry technology is our eternal goal. The core guarantee of continuous operation.
Our R&D team continuously improves old products and innovates new products by relying on domestic rich mineral resources and perfect manufacturing experience; with commendable professionalism, we sincerely focus on the overseas sales of products in this industry,
We have a very accurate grasp of the advantages and disadvantages of the products of domestic manufacturers in the same industry and constantly absorb excellent industry technicians to devote themselves to the continuous development of new products.
We respect the professionalism of many century-old companies in the world very much. What is different from other pure trading companies in China is that we use a professional team to manage professional products as the essence of corporate culture, and take continuous innovation as the company's development goal.